Due an upgrade? Don't agree to anything until you've seen our list of the best new phones coming in 2017. We've rounded up the best new Android phones, best new iPhones and best new Windows phones, including the best new Samsung phones, best new Sony phones, best new HTC phones, best new LG phones, and others. Plus what are the best new phones out now?
Best new phones 2017: Highlights
Apple iPhone 8, iPhone 8 Plus
Samsung Galaxy S8, Galaxy S8 Plus
Samsung Galaxy Note 8
Samsung Galaxy X
Xiaomi Mi6
LG G6
HTC 11
OnePlus 4
Nokia Android phone
The best phones of 2017 will offer faster performance and longer battery life, thanks to the new Snapdragon 835 chip for which headline performance figures include 25 percent faster graphics rendering and half the power consumption compared to the Snapdragon 801. It's also got 20 percent extra performance vs the Snapdragon 820, according to Qualcomm. You can expect this processor to be paired with at least 4- but potentially as much as 8GB of RAM, a minimum amount of 32GB of storage, large Quad-HD screens and class-leading cameras.
Best new phones 2017: Apple iPhone 8 & iPhone 8 Plus
iPhone 8 UK release date: September 2017
Apple is set to go big on the iPhone's 10th anniversary, which could go some way to make up for this year's relatively minor upgrade. A combination of design and hardware changes should make the iPhone 8 the most radical new iPhone to date.
The iPhone 8 could be the iPhone with which Jony Ive finally gets his own way: an iPhone that resembles a single sheet of glass with an edge-to-edge OLED screen. According to an Apple supplier, at least one of the company's new iPhones for 2017 will have a glass body. The TouchID scanner is thought to be hidden within the glass, while the physical Home button will be gone.
Other rumours suggest the iPhone 8 will feature wireless charging for the first time, and possible biometric features such as facial recognition or iris scanning. It'll run the Apple A11 processor and motion co-processor, and be devilishly fast.
One iPhone we won't see in 2017 is an upgrade to the iPhone SE, which Apple allegedly fears may hurt its iPhone 7 sales.
Best new phones 2017: HTC 11
HTC 11 UK release date: April 2017
HTC has launched its new phones at MWC in recent years, but skipped the show in 2016 and held its own event to unveil the HTC 10 (pictured). We expect its successor to be unveiled at MWC in February and onsale in March 2017 with the upgrades you'd expect: a faster processor, more RAM and – hopefully – better battery life.
An early leak suggests HTC is about to reverse its fortunes with the HTC 11 – if you thought the last two HTC flagships were a little boring, prepare to be blown away by the HTC 11. If true, it will have a Snapdragon 835 processor, 8GB of RAM, 256GB of storage, a higher-capacity battery with Quick Charge 4.0 and a 5.5in Quad-HD screen. That's a very high-end spec, so we'd guess that the standard model would have less RAM and storage.
Best new phones 2017: LG G6
LG G6 UK release date: 26 February 2017 announcement, 10 March 2017 onsale (TBC)
LG is rumoured to ditch its modular design for the G6 and potentially adopt a new glass front and rear. In common with the Samsung Galaxy S-series with which it competes it is likely to feature fast wireless charging and see a processor and graphics bump to ready the phone for VR.
One of the most interesting rumours about the LG G6 is that it will feature a new type of iris scanner that uses the same sensor as the phone's front camera, a space- and cost-saving measure that is made possible through use of a special filter.
Best new phones 2017: Microsoft Surface Phone
Microsoft Surface Phone UK release date: TBC
Surface Phone rumours have been few and far between, leading some to think it's nothing more than a myth. But it was recently revealed by Wired that Microsoft Corporate VP Panos Panay has been working on a prototype of a new phone.
Should it truly exist, the Surface Phone is expected to arrive in 2016, with a 5.5in Quad-HD AMOLED display, 4GB of RAM, 64- and 128GB storage options (with microSD support), a 64-bit Intel processor and 21Mp rear- and 8Mp front cameras. The Surface Phone could also get a Surface Pen and a USB-C port.
Microsoft is expected to hold an event in early 2017 to unveil its updated Surface Pro 5, so this is the next possible release date for the Surface Phone.
Best new phones 2017: Nokia Android phone
Nokia Android phone UK release date: Expected at MWC 2017 (late-February)
Nokia used to be the biggest and best-known mobile phone manufacturer, but in 2011 it made the fatal mistake of agreeing to produce only Windows phones. Fast-forward to 2014 and Nokia as we knew it was dead. But now Nokia is getting back into the mobile phone game, with the China-only Nokia 6 running Android announced in January.
The Nokia 6, which features a series 6000 aluminium body, 5.5in full-HD screen, Snapdragon 430, Adreno 505, 4GB of LPDDR3 RAM, 64GB of storage and a 3,000mAh battery, isn't coming to the UK. But fret not, because the Nokia 6 is the first of many Android phones, some of which will be available globally.
We know Nokia is launching new phones at MWC 2017, which will be held at the end of February, but we're not sure exactly which ones. Rumours are flying around of a Nokia 8, but we could also see a global launch for the Nokia 6.
Best new phones 2017: OnePlus 4
OnePlus 4 UK release date: June 2017 (TBC)
OnePlus has just announced its OnePlus 3T, which is an upgraded version of the OnePlus 3 with a processor and battery boost, plus a new selfie camera. It's an improvement sure, but OnePlus 3 fans won't be in a rush to upgrade.
More exciting for OnePlus fans, then, will be the OnePlus 4 expected in May/June 2017. Rather than the Snapdragon 821 this phone will likely get the Snapdragon 835. We could also see the 5.5in full-HD display upgraded to a Quad-HD model.
Other rumours suggest the OnePlus 4 will come with 8GB of RAM, a 21- or 23Mp camera and a 3,500- to 4,000mAh battery with Dash Charge. One thing we're sure of is that it will run OxygenOS, a custom UI that will be based on Android 7.0 Nougat.
Best new phones 2017: Samsung Galaxy Note 8
Samsung Galaxy Note 8 UK release date: August 2017 (TBC)
Following the Note 7 problems there are a lot of whispers about Samsung at the moment. The failure of the Note 7 has badly bruised its reputation, and it's hurt its bottom line. Some say it will look to mend its reputation by announcing the Note 8 in February 2017 alongside the Galaxy S8, while others say it will drop its Note line altogether. Samsung thinks differently, and it isn't about to give up on its second annual cash cow just yet. We'd expect to see the Note 8 in August 2017.
Surefire specs include a 5.7in Quad-HD or SuperAMOLED screen with S Pen support, a powerful processor and RAM combo capable of the very best mobile VR experience, a dual camera, waterproofing and more.
Best new phones 2017: Samsung Galaxy S8 & Galaxy S8 Plus
Samsung Galaxy S8 UK release date: 26 February 2017 announcement, 18 April 2017 onsale (TBC)
Samsung traditionally holds an Unpacked event in which it unveils its new S-series flagship the day before MWC. In 2017 this tradeshow runs from 27 February to 2 March, so we expect to see a new Galaxy S8 on Sunday 26 February 2017. There are rumours that Samsung will instead announce the phone in a separate Unpacked event in March, but either way the Galaxy S8 is apparently set to go on sale on 18 April.
For its now-discontinued Galaxy Note 7 Samsung merged its 'Edge' and standard models, so perhaps we'll see the same with the merging of the Galaxy S8 and S8 Edge. We think there will still be two Galaxy S8 models, but it will only be the size differentiating their screens. In which case the S8 edge might instead be known as the S8 Plus, or similar. In any case you should expect more of the same metal and glass front/back design it introduced last year in the S6 and in 2016 has extended to the A-series.
A big change in the design, though, is likely to be the loss of the Home button, with the fingerprint scanner built into the now 'bezel-less' (at least on three edges) screen. The headphone jack could go too, with Samsung expected to favour USB-C for digital audio.
When it arrives, you can expect the S8 to be the fastest phone money can buy, with a top-of-the-range processor and 6GB (or even 8GB) of RAM. There will more than likely be a super-high-resolution 5.1in screen – Samsung may even move up from Quad-HD to Ultra-HD, which is all the more likely given the importance being placed on VR in Android Nougat, which this phone will run – although there are rumours we could see a larger 5.5in or even 5.7in panel.
Now that Samsung has discontinued its Note 7, it's going to want to make the Galaxy S8 an absolute belter to mend its reputation.
Best new phones 2017: Samsung Galaxy X
Samsung Galaxy X release date: Q3 2017 (TBC)
The bendable phone will finally be a reality in 2017 if rumours are to be believed. Samsung is allegedly going to ship 100,000 units of its Galaxy X fold-out phone in the third quarter of this year, though expect it to be expensive.
The Galaxy X, previously known as Project Valley, is thought to be a smartphone with a dual-screen (one on each side) that folds out to reveal a 7in tablet. An 8in tablet that folds up into a 5in phone has also been rumoured.
Key specs are said to include a 4K screen, the latest Snapdragon 835 processor, and dual-cameras.
Best new phones 2017: Sony Xperia Z6
Sony Xperia Z6 UK release date: TBC
Sony neglected to announce the Sony Xperia Z6 at MWC 2016, instead revealing a new Xperia X family comprising the Sony Xperia X and Sony Xperia XA. But this doesn't mean the Sony Xperia Z6 is dead: never say never, says the company, which has since clarified that it isn't ruling out the possibility at some point in the future.
Best new phones 2017: Xiaomi Mi6
Xiaomi Mi6 release date: Late-February 2017 (March 2017 onsale)
The Mi6, successor to the Xiaomi Mi5 and Mi5s is expected to be announced at MWC in February. The phone is tipped to come in three versions, with the entry-level running MediaTek's latest deca-core Helio X30 chip, and the two higher devices running Qualcomm's brand-new octa-core Snapdragon 835, also expected to appear in the Galaxy S8, HTC 11, LG G6 and OnePlus 4.
We could see a new dual camera on the rear, and if rumours are to be believed the fingerprint scanner could be replaced with a retina scanner. The highest model in the range is thought to come with a dual-curved-edge screen, though all three have been tipped to fit Quad-HD OLED panels. If true, this will be the first time we've seen 2K screens on a Xiaomi phone.
People also read: Tips And Tricks On How to Backup and Restore iPhone 7/ iPhone 7 Plus Easily
Recommendation: Manage iPhone/iPad/iPod without using iTunes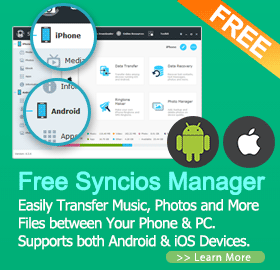 Support to transfer, edit, backup, manage, view iOS & Android mobile data: Music, videos, photos, apps, ebooks, contacts, messages and more.
Download videos from 100+ video sharing sites up to 4K HD video quality and transfer to iPad/iPhone/iPod/Android.
Massive free resources: videos, wallpapers, ringtones
Handy toolkit: Audio converter, video converter, ringtone maker, etc.
Free
You can follow Appandora on Twitter, Facebook for more tips and tricks.
Source: pcadvisor
13 best new phones 2017 | New Android phones, new iPhones, new Windows phones
reviewed by

appandora_blog_admin
on January 23, 2017
rated

4.8

of

5