The Samsung Galaxy S8 Plus is the super-sized version of the Samsung Galaxy S8, touting a giant 'Infinity Display' and extra battery life.
Its 6.2-inch screen size sounds intimidating, but while it puts a bigger display in your hand, it does this without actually extending the phone's size all the much.
The Galaxy S8 Plus favors getting rid of needless bezels and the physical home button instead of dramatically increasing the smartphone's dimensions. It's the phone we all want, with a bigger screen and smaller body.
It has best phone screen ever made, a faster chipset, new sensor technology and smarter software. Samsung gave its already trendsetting curved handset a makeover.
Cut to the chase
---
What is it? Samsung's new, curvy, big-screen flagship phone
When is it out? Release date April 21 in US, April 28 in Europe
What will it cost? £779.99 ($824.99, AU$1,349)
Samsung Galaxy S8 Plus release date and price
---
Available to pre-order in the US and UK – often with bonuses
Galaxy S8 Plus release date is April 21 in US, April 28 in Europe
The Samsung Galaxy S8 Plus release date is set for April 21 in the US, and April 28 in the UK and the rest of Europe.
Pre-orders in the US began the day after the March 29 launch event, with AT&T, Verizon, T-Mobile, Sprint, US Cellular and Best Buy selling it online.
Samsung Galaxy S8 Plus UK pre-orders began right away, and if you reserve your phone phone before April 19 you could get the handset up to eight days before the official April 28 UK release date.
Further out, an unlocked Samsung Galaxy S8 Plus price has been unveiled for the US. It's $824 at Best Buy, but it won't arrive until May. That's a long wait for early adopters of tech, but sooner than Samsung's usual four-month window for carriers to get a head start with the SIM-locked version.
A SIM-free Samsung Galaxy S8 in the UK is much easier to get right now and you're looking at a lofty price £779.99. The Galaxy S8 in Australia costs AU$1,349, but carriers like Telstra break up that up into monthly payments if you're willing to sign a contract.
Key Features for Samsung Galaxy S8
---
Display: 6.2-inch, 1440 x 2960 pixels
Dimensions: 159.5 x 73.4 x 8.1 mm
Weight: 173g
Software: Android 7, Samsung Experience UI
Camera: 12MP rear/8MP front
Battery: 3500mAh, fast and wireless charging
Storage: 64GB, microSD up to 256GB
RAM: 4GB
Power: Qualcomm Snapdragon 835 or Exynos 8895
Samsung Galaxy S8 Plus design and display
---
Samsung's 'Infinity Display' is the hallmark of this new Android smartphone. It has a 6.2-inch screen that stands out from every other flat phone out there.
It's bigger without actually pushing the dimensions too much. It's a good size for anyone who was able to handle the Note 7 and wanted to cling onto the recalled smartphone. This is your next best option, even if it doesn't have a fancy S Pen.
The Galaxy S8 Plus is a bit taller than the Note 7 due to its 18.5:9 screen ratio, but think about it: It's a 6.2-inch phone vs a 5.7-inch phone. 'Just a bit bigger' in dimensions is remarkable for such a significant jump in screen size.
Once again, the front and back are covered in Gorilla Glass and wrap around until they meet at a ultra-thin frame. You'll want a case for the Samsung Galaxy S8 Plus because it can be difficult to hold in one hand. Glass, surprise, surprise, shatters easily if you're not careful.
Samsung Galaxy S8 Plus power
---
Samsung has a new chipset for the Galaxy S8 as well, utilizing 10 nanometer technology. This makes the phone more powerful, yet at the same time more efficient.
Like with the Galaxy S7, there will be two different processors in different parts of the world. Which one you get really depends on where you live.
The US will get the Qualcomm Snapdragon 835 while the rest of the world will get Samsung's own Exynos 8895 chip, which tends to be slightly faster.
Both are powerful enough to run desktop virtualization. Samsung is picking up where Microsoft left off by allowing Galaxy S8 users to turn their smartphones into a desktop experience. Samsung worked with Microsoft to make sure that Office works seamlessly with Samsung DeX.
Thankfully, DeX runs Google Android app tailored for a desktop experience instead of being limited to Samsung's proprietary Tizen ecosystem.
All phones will have 4GB of RAM and 64GB of internal storage, plus there's microSD support for cards that allows you to add another 256GB.
Samsung Galaxy S8 Plus camera
---
The Galaxy S8 Plus has the same 12MP camera as last year's phones, but don't worry too much. Samsung promises your photos will still look better than before.
That's because the company is putting its new camera's might behind the post-processing software. It should make your low-light photos even better. We'll save our judgment for the final Samsung Galaxy S8 Plus review.
The Plus is also getting a new multi-frame shot mode where multiple photos can be combined to make a better photo. The phone will take the best parts of each shot and will stitch them together to make the best shot possible.
The front-facing camera does see a new sensor. It's 8MP, an increase from last year's 5MP. It'll also debut front-facing auto-focus in an effort to make your selfies clearer.
Samsung Galaxy S8 Plus battery life
---
The Samsung Galaxy S8 Plus packs in a 3,500mAh battery. That's actually 100mAh larger than the Note 7, but Samsung is promising this one won't explode.
The company says it has an 8-point plan that prevents a repeat of its Note 7 battery failures. Barring another mishap, you should have a day-plus of battery life.
It'll see Samsung's brand of fast charging through USB-C and fast wireless charging, making it easy to juice the phone back up.
People also read: How To Backup Samsung Galaxy S8 Video To PC
Recommendation: Manage iPhone/iPad/iPod without using iTunes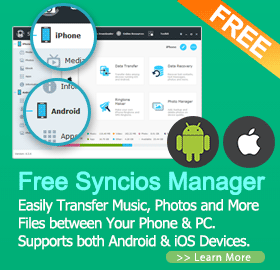 Support to transfer, edit, backup, manage, view iOS & Android mobile data: Music, videos, photos, apps, ebooks, contacts, messages and more.
Download videos from 100+ video sharing sites up to 4K HD video quality and transfer to iPad/iPhone/iPod/Android.
Massive free resources: videos, wallpapers, ringtones
Handy toolkit: Audio converter, video converter, ringtone maker, etc.
Free
You can follow Appandora on Twitter, Facebook for more tips and tricks.
Source: techradar